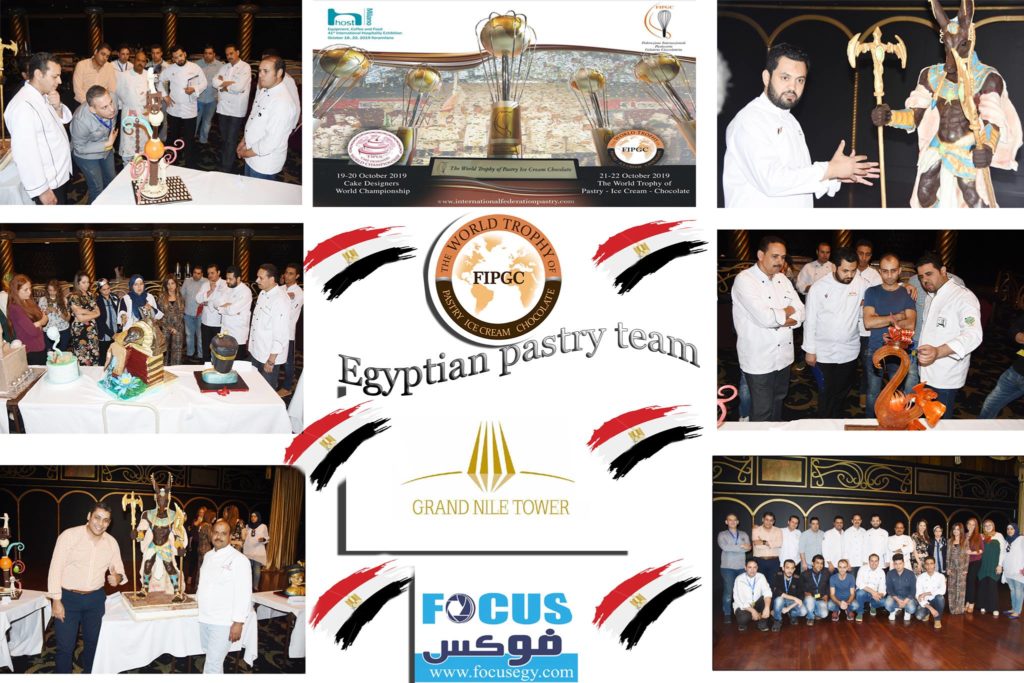 Egypt, pre-selections for the 2019 Pastry World Championships "The World Trophy of Pastry Ice Cream and Chocolate FIPGC"
In Cairo, on 28 April, at the Nile Tower Hotel Cairo took place the pre-selections to get the team who will compete the FIPGC 2019 World Championships that will be held at Host Fiera Milano.
An accurate job has been done by Medhat Akef FIPGC regional representative and director of the Focus Production newspaper, by his closest collaborators and by Tamer Mohamed Zein Italian Pastry Excellence Equipe, famous Pastry chef in Egypt known as the "Pastry Egyptian Pharaoh".
At the pre-selections 50 pastry chef participated with the aim to get into the Egyptian Pastry chef team.
Most of the works represented the history, the culture and the mythology of these people, whose history and civilization dates back to 3 milion years before Christ.
The participants competed with great knowledge in the arts of sugar, chocolate and pastillage determined to compete in this worldwide pastry challenge.
At the end only 25 pastry chefs came out from this challenge and in 13 July they will compete again to get the team who will represent Egypt.
Egypt leader in history, civilization and history is determinated to establish itself in the World pastry scenery.
في 28 أبريل في القاهرة ، في فندق النيل تاور القاهرة ، تم إجراء االختبارات االفتتاحية لتشكيل الفريق الذي سيشارك في بطولة كاس العالم للحلواني القادمة لعام 2019 التي ينظمها FIPGC والتي ستعقد في Host Fiera Milano.
تم إطلاق الجهاز المنظم لهذا الحدث بشكل مهني ودقيق من قبل مدحت عاكف ، ممثل FIPGC الوطني ومدير جريدة الإنتاج فوكس ، من قبل المتعاونينالشيف كمال متري و الشيف محمد طه و الشيف محمود جنيدي وتامر محمد زين ، احد أفراد التفوق الإيطالي للحلويات ، المرجع الدولي يقدر FIPGC ، فضلا عن اسم الشهرة في مصر ، طاه المعجنات يلقب لذلك "الفرعون للحلويات ".
حدد 50 متسابقن وتحفزوا على تحدي بعضهم البعض ليكونوا جزءا من المنتخب المصري.
تمثل الأعمال المعروضة ، في معظم الحالات ، موضوعًا متأصلًا في تاريخ وثقافة وأساطير هذا الشعب العظيم ، الذي يعود تاريخه وحضارته إلى ما قبل أكثر من ثلاثة آلاف عام قبل المسيح.
تحدى المشاركون أنفسهم بالسكر والشوكولا والباستيل ، بمهارة وكفاءة كبيرين ، مصممين على التنافس على هذا الحدث الكبير من السمك والهيبة لعالم الحلويات.
في نهاية الحدث ، لم يمر سوى 25 متسابق على الانتقاءات الأولية ، وسيجتمع الأخير مرة أخرى في يوليو لإجراء مزيد من القشط قبل التشكيل النهائي للمنتخب المصري.
مصر ، سيد التاريخ والحضارة والثقافة ، مصممة على تأسيس نفسها في عالم الحلويات.