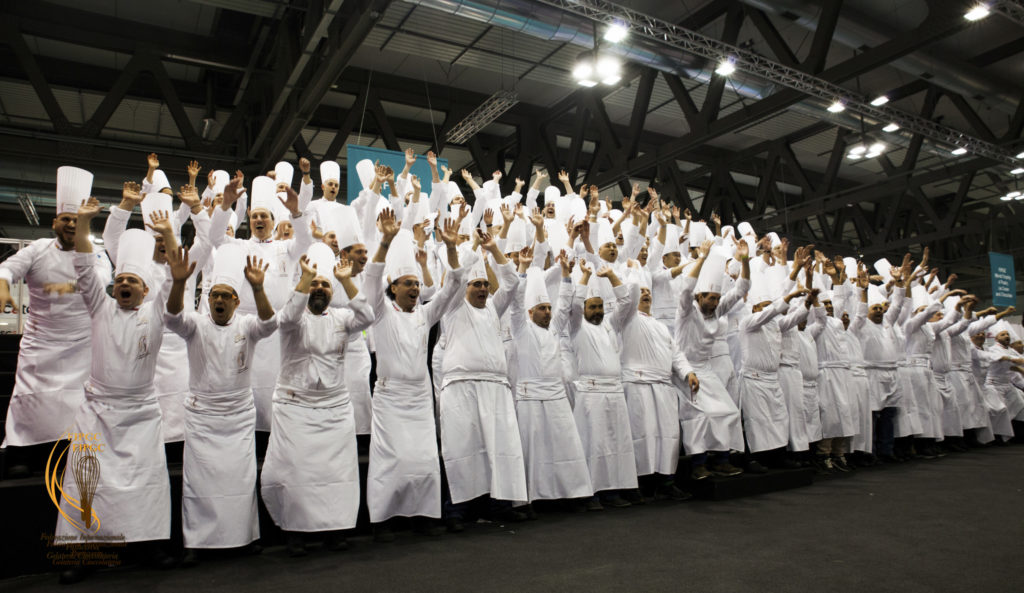 LOS EMIRATOS ÁRABES GANAN EL FIPGC WORLD CHAMPIONSHIP OF CAKE DESIGN.
LOS EMIRATOS ÁRABES GANAN EL FIPGC WORLD CHAMPIONSHIP OF CAKE DESIGN. Segundo lugar para EU, Polonia tercero. Premio especial para Italia, que ganael título a mejor pastel de exposición. Premio Especial de Críticos de Sri Lanka
Milán, 25 de octubre de 2017.
Se llama Jade Saducas y con su creación ha llevado a los Emiratos Árabes Unidos al escalón más alto del podio del Campeonato Mundial de Diseño de Tortas, organizado por la FIP, Federación Internacional de Confitería, en ' alcance de Host Milan, la Exposición Internacional de Hospitalidad Profesional. Con una producción espectacular de pasta de azúcar y bizcocho, en la que un velero español y un molinillo tradicional giran alrededor de un timón, relató el viaje al mundo del café y el cacao. En segundo lugar estuvo el artista estadounidense Bryson Perkins, quien ha creado una composición espectacular que representa una especie de isla volcánica caribeña, con mucha flora y fauna perfectamente reproducida en pasta de azúcar. Desde el cono del volcán "erupciona" una representación alegórica al femenino del triunfo del chocolate. Polonia es el tercer absoluto: Jowita Woszczynska ha realizado una composición que evoca un jardín fantástico, poblado de duendes y hadas, que representa una especie de paraíso onírico de chocolate y café. Los tres ganadores han vencido inesperadamente a algunos de los equipos más famosos del mundo, como Francia y Italia, que tienen una tradición muy fuerte en el manejo del chocolate y el azúcar. Premio especial para Italia, titular del título, que gana el título de Mejor pastel para la exposición, y para Trinidad y Tobago, que gana el título de Mejor gusto, mientras que Sri Lanka gana el Premio de la crítica, por la Revista de pastelería. 20 equipos compiten, provenientes de los 4 continentes, de Marruecos a Sri Lanka, de EE. UU. A China, de Perú a Trinidad y Tobago, hasta los grandes "jefes de serie" europeos como Francia e Italia. Juzgando los trabajos un jurado de expertos internacionales, bajo la presidencia de Kristina Rado.
Los diseñadores de tortas realizaron 3 pruebas: la primera, la de Exposition Cake, o un concepto desarrollado previamente y presentado exclusivamente para los Campeonatos del Mundo, cuyo tema era "Descubre el mundo del chocolate y el café", el segundo era el Tasting Cake, donde el lado artístico tuvo que equilibrarse con el sabor y, por último, el punto culminante: la reproducción, en una escala más pequeña, del show cake.