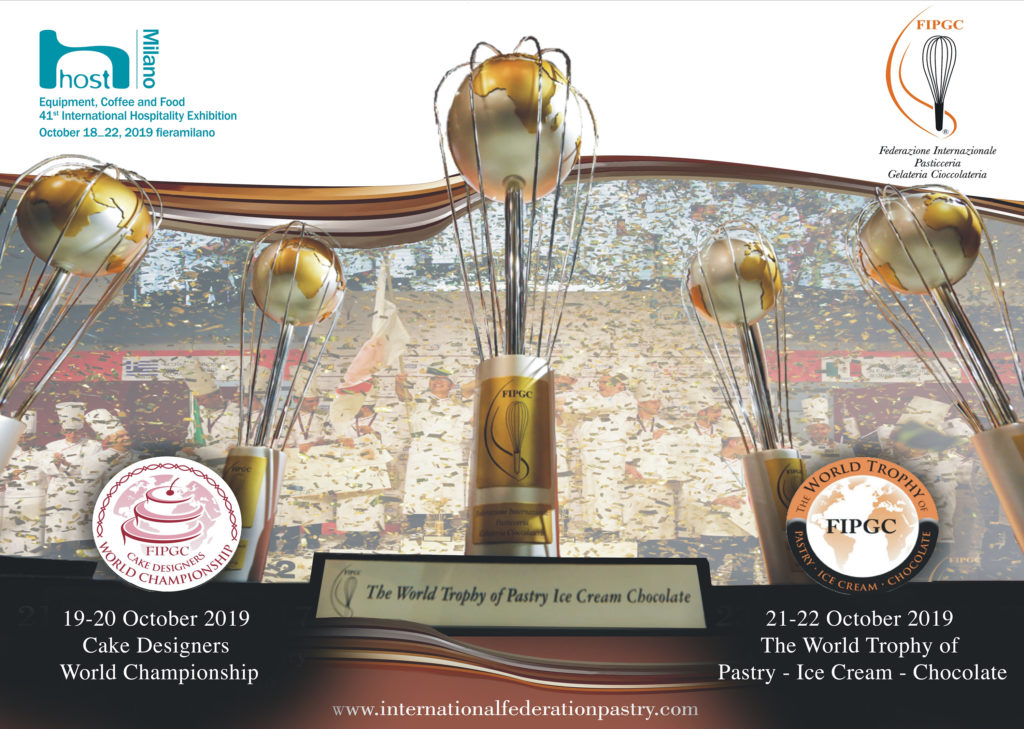 WELTMEISTERSCHAFT DER KONDITOREN IN 5 KONTINENTEN WELTMEISTERSCHAFT VON DER INTERNATIONAL FEDERATION OF PASTRY, ICE CREAM AND CHOCOLATE (FIPGC)
Bei der Champions League der Konditoren wird entscheiden, wer der beste Konditor ist. Das Thema wird "Kunst und Kultur" sein.
Texas, San Diego, Miami, aber auch Hong Kong, Shanghai und das ganze Europa, bis hin zu Sydney und Melbourne: für ein ganzes Jahr werden auf die fünf Kontinenten Konditoren und Cake Designers in dem FIPGC World Championships. Nur die ausgewählten werden die Möglichkeit haben in der Elite zu langen, und ihre Landesflagge zu halten, bei der Cake Designers World Championship in Mailand, 2019.
"Das International Federation of Pastry Ice Cream and Chocolate" organisiert die Nominierung in sehr vielen Länder der Welt, leistet Hilfe für die verbündeten Vereine und Messen, die Nominierungswettbewerben organisieren – sagte Roberto Lestani, FIPGC Präsident. Jede Kultur zeigt uns etwas einzigartiges und innovatives, auf diesen Felder möchten wir die Konditoren herausfordern. Unser Ziel ist es, den besten Konditor(in) der Welt in 2019 zu finden."
Es ist ein Art Konditor(in) Weltmeisterschaft, in der jeder Konditor(in) repräsentiert der Kunst und Kultur sein Land, versucht die Jury bei den künstlerische, technische und Verkostungstest zu erstaunen. Nur drei Konditoren aus dem jeweiligen Land werden in dem Landesteam gewählt, und nur eine wird in der Cake Designer Team des Landes gewählt.
In den Vereinigten Staaten haben die Nominierungsrunden in Austin, Texas, und San Diego California stattgefunden. In Miami wird die letzte Runde stattfinden, wo das Landesteam nominiert wird. Die Nominierungen in Italien waren vom 25 bis 28 Februar, wo die beste drei Konditor, und der beste Cake Designer aus 80 Teilnehmer gewählt wurde. In China wir das Landesteam in März 2019 in Shanghai gewählt, dann folgen Egypt, Saudi-Arabien, Marokko, und Spanien.
Die Landeswettbewerbe werden auch nach der Frühling 2018 fortgeführt: am 6. Juli in Japan, Juni und Juli in Australien, wo das Finale vom 10 bis 13. September 2018 stattfindet.
Gewinnen die Landeswettbewerbe ist nur der erste Schritt der Herausforderung: bereitstehen für die World Championship 2019 in Mailand. Die Gewinner müssen ihre Bestes geben, in einem Team eine gemeinsame Strategie entwickeln, und beweisen für die ganze Welt. Dies bedeutet monatelange hartes Training, lernen und Verbesserung von sich selbst.